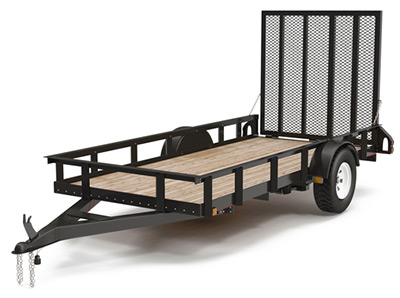 Trailers can prove useful in a number of situations, especially when it comes to hauling materials from one area to another. Whether it's construction equipment or hunting supplies, having a trailer that you can load everything into for quick and secure transportation means being able to get to where you need to go with all of your equipment, with minimal headaches along the way.
Altitude ATV & Side-by-Side Rentals is here to supply you with a trailer rental in Durango, CO as your needs call for it! We understand that owning your own trailer might not be a worthwhile investment, which is why we provide trailer rentals on an as-needed basis to serve you when the time arises.
What can you utilize our trailer rentals in Durango, CO for? Anything you might need! Whether you're moving construction equipment for a new renovation or you're transporting your ATV to the trails to enjoy a day of scenic riding, we're obliged to help. We rent out trailers for any purpose you might need them for, with rates that are amiable and competitive.
Overnight and longer term rentals
How long do you need a trailer rental in Durango, CO for? We're happy to offer daily, overnight and long-term rentals depending on your needs.
For daily and overnight rentals, we can accommodate hunters who might be transporting gear and game to and from the area. We want to make it as easy as possible on you to get to and from your grounds. The same goes for campers as well!
For longer term rentals, we frequently work with jobsite foremen and workers to arrange rentals that are encompassing of your job timeline.
Get in touch with us about the appropriate term you require a rental for and we'll help price one accordingly for you.
---
Trailer Rental
$75
–
---
Trailer Delivery Fee
$100
Within a 60 mile radius
---
Contact us
We bring our ATV rentals to you. Wherever you are in the Vallecito Lake area, we can deliver our ATV rentals directly to you.
To learn more about our trailer rentals in Durango, CO or to inquire about rates and reservations, please contact us today by calling 970-403-2260.